Une double émission en timbres se-tenant pour la Slovaquie :
- Le premier timbre évoque les Jeux Olympiques de Londres 2012 à travers des allégories antiques. Cependant, il ne présente aucun symbole olympique (anneaux, logo des jeux ou logo d'un comité olympique national).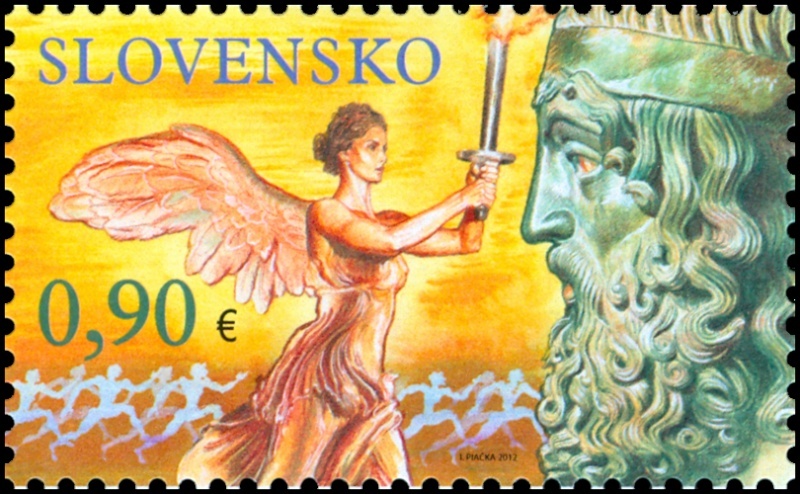 - Le second évoque les Jeux Paralympiques de Londres 2012 avec un athlète en fauteuil roulant sur fond de London Eye (la grande roue de Londres). On notera cette fois la présence du logo du comité paralympique slovaque.
Ces deux timbres ont été émis sur une même planche le 28 juin 2012.
Enveloppes premier jour (FDC) :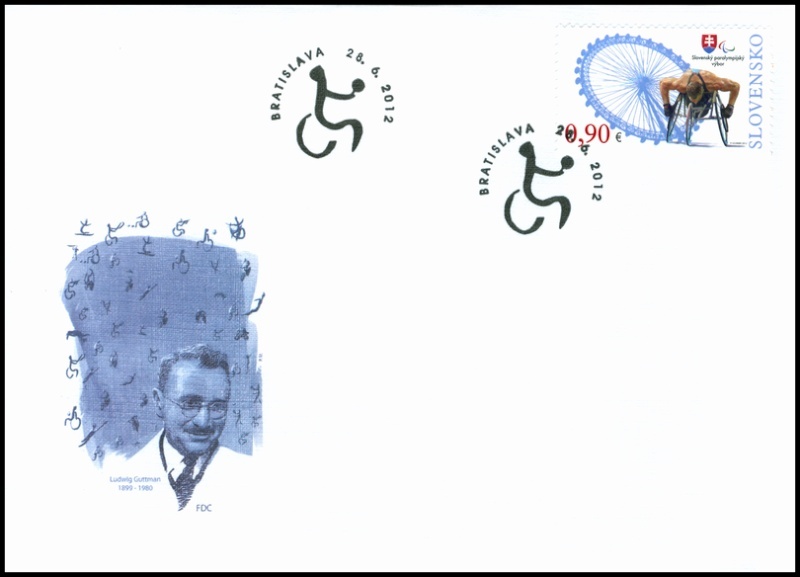 Descriptions des timbres en anglais :

When the International Olympic Committee at its 117th meeting in Singapore on 6th July 2005 was deciding on the venue of the XXX Olympic Games, there were cities in the final bid with the winner having the possibility of hosting the modern Olympic Games for the third time. London was honoured with this victory in a fight with Paris, and it was indeed a favourable decision. The Olympic Games are coming back to the country which became a cradle of a modern sport in 19th century.
The first Olympic Games in London took place in 1908, in a multifunctional stadium in Shepherd's Bush. Its size was 66,288 spectators, and, besides the athletic oval, there was also a cycling track and 100-metres swimming pool! Zoltan Halmaj, born in village Dúbrava near Vysoká pri Morave, ended his Olympic career with two silver medals in this pool. He earned two gold medals, four silver medals and two bronze medals at three Olympic Games representing the Austro-Hungarian Empire. The other Olympic Games in London in 1948 brought the first Olympic gold medal for Slovak sports. Julius Torma won it for the Czechoslovak team. He was considered to be one of the most technical boxers of his times and he was called ´The knight of leather gloves'.
The Wembley Stadium, which was undamaged by bombing, became the main stadium of post-war Olympic Games. Its size was 82,000. This legendary stadium was changed into the second largest football stadium in Europe in 2003. The Olympic Stadium with 80,000 seats was built for the upcoming Olympic Games in three years, and it was finished in 2011. This stadium will host the Opening and Closing Ceremonies and the Athletics events.
The Slovak athletes will try to be successful at the Olympic Games where 10,500 athletes from 204 countries are expected. There will be 302 collections of medals in 26 Olympic sports. We have an excellent chance of success in athletics (hammer throw), shooting and in Hertfordshire water where water slalom will take place.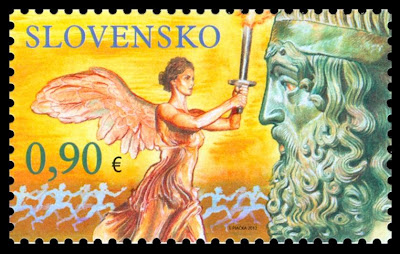 Stamp dimensions: 44,1 x 26,5 mm
Form of printing sheet: TL
Stamps per sheet: 25
Stamps in set: 2
Printer: Postal Stationery Printing House, Prague
Printing technology: Offset
Circulation: 200 000

The first Paralympic Games for physically handicapped sportsmen, mostly British soldiers – disabled people from WWII, were held on 29th July1948. It took place on the same day as the Opening Ceremony of the XIV Olympic Games. Neurologist Dr. Ludwig Guttmann (1899 – 1980) from Stoke Mandeville hospital in Aylesbury organised a wheelchair archery contest for soldiers with spinal cord injuries. He was convinced that sport is a form of therapy. The first, still British, repetition took place in 1952 in the same location, and athletes from Holland joined it. Stoke Mandeville Games were awarded by Fearnly Cup by International Olympic Committee in 1956. In 1966, Guttmann had been knighted by Her Majesty Queen Elizabeth II, thus became Knight of the Order of the British Empire.
In 1960, the games took place in Rome during the Olympic Games, the following cities were Tokyo, Tel-Aviv and Heidelberg. In Toronto in 1976 not only athletes in wheelchairs took part, but also athletes with a wide range of disabilities.
The Paralympic Games are coming back to its cradle with a wide-ranging schedule for more than 4,000 contestants from 166 countries who will participate in 21 disciplines. Besides the traditional Olympic disciplines (light athletics, swimming, weightlifting, fencing, equestrian disciplines, cycling, rowing, yachting) or games (football, volleyball, basketball, rugby, tennis, table tennis) we will see also a extremely popular game of boccia or goalball. It was devised after WWII as a ball game for visually impaired soldiers. It is played in silence and players try to throw a ball that has bells embedded in it into the opponent's goal. The players do not see the ball; they only hear it. But after the goal, the applause is an legitimate doping... Let's believe that even the Slovak athletes will be as successful as they were at the last Paralympic Games where they earned two gold medals overall, three silver medals and one bronze medal in table tennis, shooting and cycling.





Stamp dimensions: 44,1 x 26,5 mm
Form of printing sheet: TL
Stamps per sheet: 25
Stamps in set: 2
Printer: Postal Stationery Printing House, Prague
Printing technology: Offset
Circulation: 200 000
Source :
http://www.pofis.sk/en/catalog/emissions

waubry




Messages

: 34


Date d'inscription

: 28/05/2012


Age

: 47


Localisation

: Calvados, Basse-Normandie



---
Permission de ce forum:
Vous
ne pouvez pas
répondre aux sujets dans ce forum